A celebration of the lives, stories and contribution of Black British people
Patrick Vernon OBE and Dr Angelina Osborne, founders of the 100 Great Black Britons campaign, are proud to publish 100 Great Black Britons, a book that honours the remarkable achievements of key Black British individuals over history. With a foreword written by David Olusoga, the book includes a list of Black British names and accompanying portraits that explores these individuals' contribution and legacy to British History.
In 2019, 16 years after the initial launch of the 100 Great Black Britons, Patrick Vernon OBE and Angelina Osborne launched a new campaign to celebrate Black British History and Black Britons who contributed to shape Great Britain by their work and actions. The public was invited to vote for the Black Briton they most admire.
The campaign was a huge success and we received thousands of nominations. In January, a panel of experts were invited to do the final short cut of 100 Great Black Britons. The book will compile the updated list and act as a companion to this vital and updated campaign.
"I am delighted to see the relaunch of 100 Great Black Britons [campaign]. For too long the contribution of Britons of African and Caribbean heritage have been underestimated, undervalued and overlooked".
Sadiq Khan, Mayor of London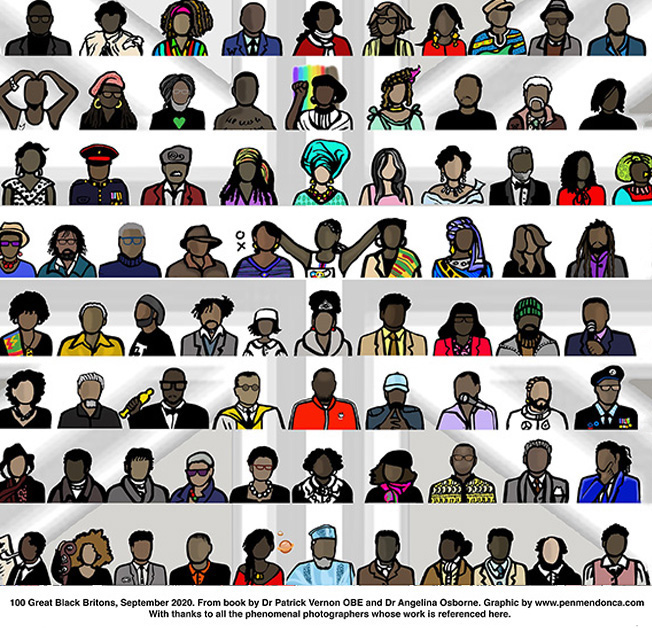 Graphic by www.penmendonca.com @MendoncaPen
---
Find out who is in 100 Great Black Britons 2020. Did your nomination make it to the final 100?
100 Great Black Britons – alphabetical listing by surname:
Diane Abbott
Victor Adebowale, Baron Adebowale CBE
Adedoyin Olayiwola Adepitan MBE
Dr Maggie Aderin-Pocock MBE
Professor Hakim Adi
Sir David Adjaye OBE, RA and Elsie Owusu OBE, RIBA
Akala
John Akomfrah CBE
Ira Aldridge
Valerie Amos, Baroness Amos CH
Kehinde Andrews
Professor Dame Elizabeth Anionwu DBE
Dr Elaine Arnold
Amma Asante MBE
Winifred Atwell
---
Dame Jocelyn Barrow DBE
Lance Sergeant Johnson Beharry VC, COG
Dame Floella Benjamin of Beckenham DBE, DL
Munroe Bergdorf
Jak Beula Dodd
Karen Blackett OBE
Malorie Blackman OBE
John Blanke
Dennis Bovell
Sonia Boyce OBE, RA
Dr Aggrey Burke
Vanley Burke
Margaret Busby OBE, FRSL
Dawn Butler
---
Earl Cameron CBE
Betty Campbell MBE
Naomi Campbell
Queen Charlotte
Edric Connor
Lloyd Coxsone
William Cuffay
Quobna Ottobah Cugoano
Dame Linda Dobbs DBE
---
John Edmonstone
Idris Elba OBE
Edward Enninful OBE
Olaudah Equiano
Bernardine Evaristo MBE, FRSL
Sir Mohamed Muktar Jama Farah CBE
Lenford Kwesi Garrison
George the Poet
Paul Gilroy
Bernie Grant
---
Stuart Hall
Lewis Hamilton MBE
Sir Lenny Henry CBE
Lubaina Himid CBE, RA
Dame Kelly Holmes DBE
Darcus Howe
Rose Hudson-Wilkin MBE
Eric Huntley and Jessica Huntley
Professor Augustine 'Gus' John
Linton Kwesi Johnson
Claudia Jones
---
Sheku Kanneh-Mason MBE
Jackie Kay CBE
Sam King MBE
Kwame Kwei-Armah OBE
John La Rose
David Lammy
Marai Larasi MBE
Doreen Lawrence, Baroness Lawrence of Clarendon OBE
Andrea Levy
---
Sir Steven McQueen CBE
Dr Harold Moody
Olive Morris
Grace Nichols and John Agard
Chinyere (Chi-chi) Nwanoku OBE
David Adetayo Olusoga OBE
Phyllis Opoku-Gyimah 'Lady Phyll'
Olivette Otele
Horace Ové CBE
David Oyelowo OBE
George Padmore
Professor Sir Geoff Palmer OBE
Alex Pascall OBE
David Pitt, Baron Pitt of Hampstead
Mary Prince
---
Marvin Rees
Bill Richmond and Thomas Molyneux
Marcia Rigg
Ignatius Sancho
Stafford Scott
Mary Seacole
Menelik Shabazz
Yinka Shonibare CBE, RA
Paul Stephenson OBE
Stormzy
Robert Wedderburn and William Davidson
Dame Sharon White DBE
Henry Sylvester Williams
Allan Wilmot
Simon Woolley, Baron Woolley of Woodford
Gary Younge
Benjamin Zephaniah
---